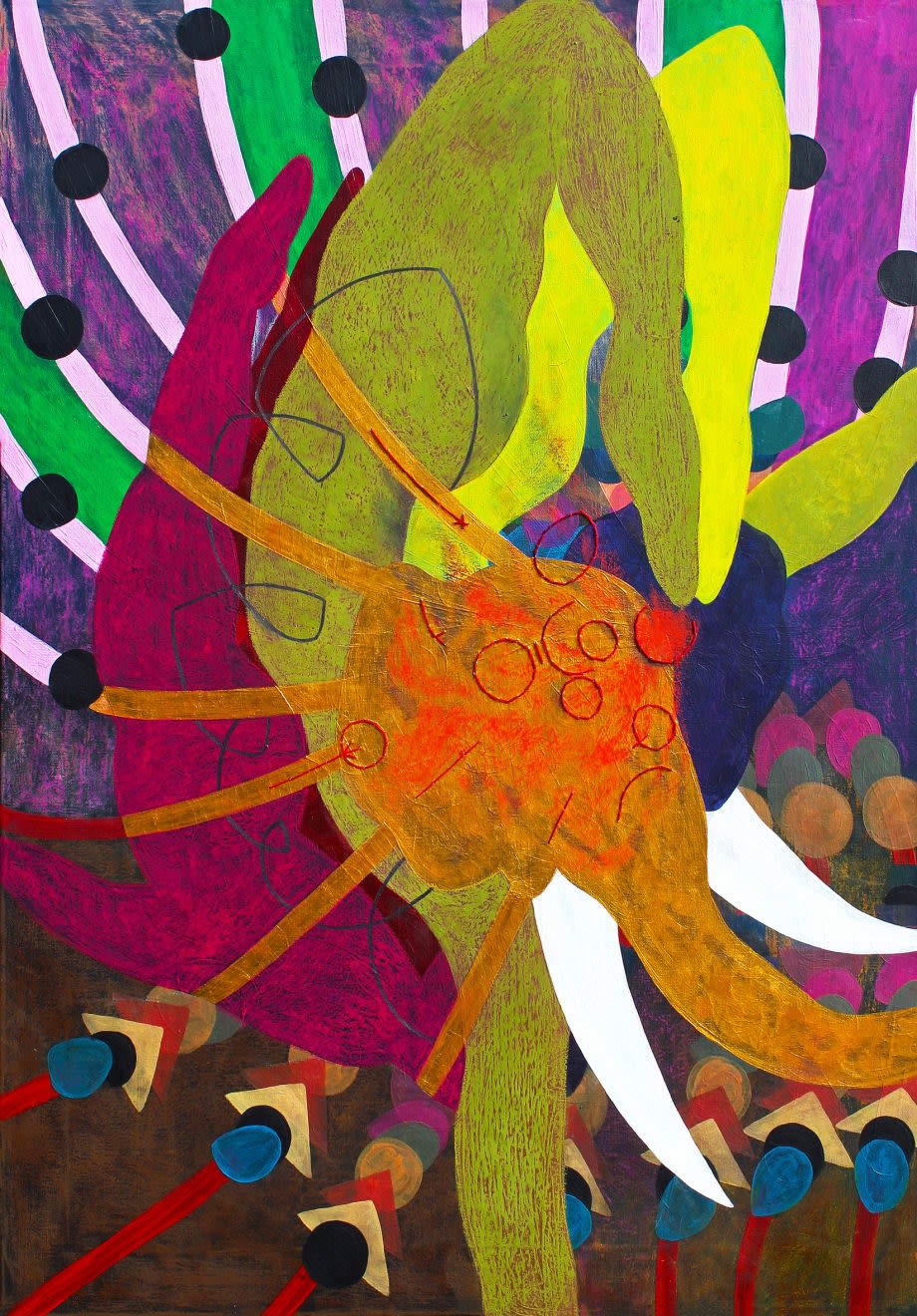 Tiffanie Delune's practice is moving towards joy with increasing insistence; in her words, 'it's coming home to yourself'. Expanding from an initial focus on personal trauma and childhood experiences, the artist is embarking on a wondering wandering. Its first iteration is inspired by Congolese songs and fables – a kind of self-administered antidote to the colonial worldview imbibed as part of her French education.
'In school, all I was taught about Africa was that Africa was colonised', she explains. 'It was like learning that Africans didn't have an identity on their own. If it didn't come from your family or personal curiosity, there was no way of learning about African art or poetry.' Situating her practice as a kind of complementary counterweight to the monolith of Western culture and the violence it inflicts, seeking brilliance seems part of Delune's intrinsic make up; 'It's just my personality. I have to look at the glass as though it is full'.
Enter, The Elephant Never Tires Carrying Its Tusks – the first in a series of six canvases to engage her research into Congolese folk history. The title comes from a proverb; 'it means that parents should never be tired of bearing the weight of their children. That they should be a natural extension of you, part of your body and being', explains the artist. Imbued with the solidity of its canvas medium, Delune's dynamic composition translates wisdom into light, shape, movement. 'It's an elephant with a woman's body', she says, swerving from significance to subject matter. 'She's carrying her child on her stomach, and I was interested to position her like a contortionist. She's balancing, one hand here and there's the other. Parenting can feel a bit like a circus act, like juggling – and the child is swimming, navigating lifewith her.'
It's a feeling Delune knows very well indeed, inspiring her to start the piece as lockdown began in earnest. 'At the beginning, everyone was saying, oh my God, how are people with kids going to do this? I understand the fear, because of course it's a lot – raising a child while you're trying to work. But at the same time, when did we become a society which thinks of children that way – as a burden?' Balancing the mixed blessings of lockdown is something we're all (suddenly) familiar with; on the one hand, worlds contract and networks evaporate. On the other, we're granted time to breathe and refocus on what's at home – family, quietness, selfhood. For Delune, the greatest joy of these strange months has been connecting with her son. 'We've really bonded', she says. 'You get to see things that you never usually see.'
Arguably, that clarity of vision – and nuance – is what propels Delune's painting to its most arresting crescendos. Meaning and mysticism are often conferred by colour symbolism as well as her composition: red, for 'love and passion'. Gold, evoking renaissance frescos and statues of Indian gods. 'I'm trying more and more to mix my colours', she explains, all while casting further afield for influence. 'I like the feel of personal travels I took in Egypt, Bali, Istanbul, Martinique, Nigeria and places I imagine but have never been, like Morocco, India and Senegal. The history and depth – there's so many different strands of heritage, a feeling you can't describe but it's really powerful. I want magic in the work, you know?'
Delune's excitement in staging those encounters – setting, medium, sentiment – is palpable. It's contagious, too; how could anyone resist travel-by-painting in a world whose borders have never felt so stark? 'Joy, for me, is the right to celebrate yourself. To say, well, we also have beautiful stories', says Delune. Hers is work which spins beauty from darkness and colour from a void; finding poetry in the present, no matter its concurrent struggle. Delune's canvases hold a special kind of dualism, unearthing intimate specificity in universal lessons and shared sentiments. Proverbs, pandemics, and the poise of an acrobat: we're all learning to carry our own loads, now more than ever. Reframing the burden, whatever it might be, is often simpler than it might first feel – try standing on your head and see how it looks then.
By Emily Watkins.
View video details of Tiffanie's works here.